A White Home press briefing erupted Monday when a reporter confronted Press Secretary Karine Jean-Pierre for "making a mockery of the First Amendment" for not taking his questions for a number of months.
At this time Information Africa Chief White Home Correspondent Simon Ateba started shouting her down as she stood on the podium in entrance of the solid of "Ted Lasso," together with Jason Sudeikis and Hannah Waddingham, who joined the briefing to debate psychological well being.
"This is not China. This is not Russia. What you are doing you're making a mockery of the First Amendment," Ateba mentioned. "It's been seven months you've not called on me. I'm saying that's not right."
"We're not doing this," Jean-Pierre repeated to him.
WHITE HOUSE BRIEFING ERUPTS AFTER REPORTER BERATES KARINE JEAN-PIERRE: 'MOCKERY OF THE FIRST AMENDMENT'
Fox Information contributors weighed in on the debacle, with Joe Concha and "Fox Across America" host Jimmy Failla sounding off Tuesday. 
"What he was speaking to in that moment is there's a genuine lack of frustration by true journalists who aren't getting a lot out of this administration. You could argue with his tactics, but they're constantly being denied access," Failla mentioned.
"Last week, the press corps complained that they never get to ask Biden questions, and she goes 'Oh, you'll get to ask Biden questions at the bilateral meeting Friday," which they did, however he did not reply them…
REPORTER FEUDING WITH KARINE JEAN-PIERRE SAYS WHITE HOUSE 'DOESN'T WANT TOUGH QUESTIONS'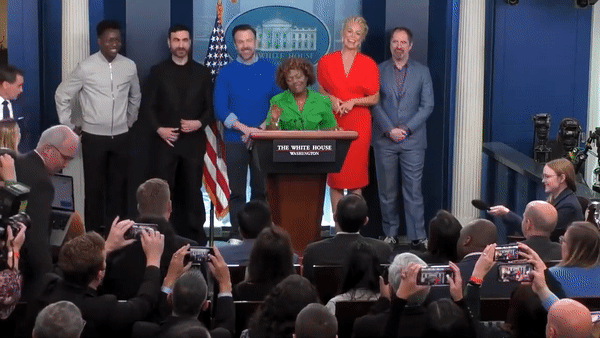 "We were told they were going to be the most transparent administration in history. This administration thinks transparent is a man who has a baby," Failla joked later.
Joe Concha weighed in earlier Tuesday on "Fox & Friends First," calling the "Ted Lasso" solid invitation "tone-deaf" because the nation faces a number of concurrent crises.
"This was not the day to do that," he mentioned. "You have China and Russia, along with Iran and North Korea – this is the new axis of evil 2.0…"
REPORTER FEUDING WITH KARINE JEAN-PIERRE SAYS WHITE HOUSE 'DOESN'T WANT TOUGH QUESTIONS'
Sounding off on the terse trade between Jean-Pierre and Ateba, Concha mentioned," She only calls on those she deems as friendly, and then she'll call on Peter Doocy because obviously she knows that's something that's going to be called out on the most-watched cable news network in the country if she does not."
"Karine Jean-Pierre is a lot like her boss. She doesn't answer any tough questions, and we saw last week –  finally – the White House press corps had enough when they protested around the president's handlers shouting them down when they tried to ask questions of him in the Oval Office.
"That is the least clear presidency of our lifetime," he continued.
Concha added that the hopes more reporters will begin protesting Jean-Pierre's selective choices on who to call out during press briefings.
Fox News' Nikolas Lanum contributed to this report.
Learn the total article here